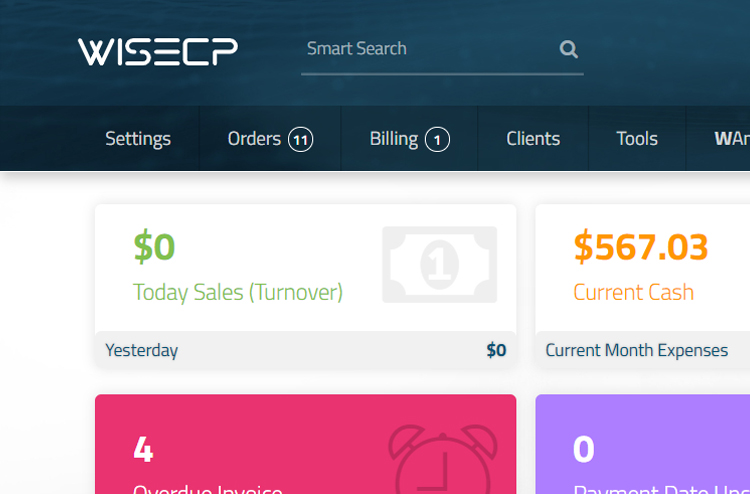 What is WISECP?
WISECP is next generation hosting and digital solutions automation. It includes a client area, admin area and a website interface. It has been developed for companies operating in the field of information technologies. With WISECP, all invoicing transactions, accounting (cash, income, expense) records, client management, product management, support services and many other operations can be carried out easily.
WISECP has an internal website interface integrated with the system. So, you don't have to be looking for a website theme or draft. Thanks to its creative, professional and user-friendly web interface, your visitors easily navigate your website and create a positive impression in the eyes of your visitors.
With the "Only Client Panel" feature, you can hide the website interface and use the system only as a panel. Thus, you can define a client panel link and product purchase links to a different theme or to your existing website and direct it to automation.
Usage Areas
You can offer services in many categories and sectors
Web HostingWith the hosting management system, you can add as many shared servers to the system as you want and easily import accounts on the server.
Domain ManagementWith the domain name management system, you can easily sell and manage the domain names through domain registration companies integrated with WISECP with the system.
Automated ServersWith the server management system, you can sell and manage virtual servers through vmpanel APIs integrated with WISECP.
Software & LicensingWith the license management system, you can sell or rent all your software, themes, add-ons and similar products through WISECP.
Create Unlimited Other ProductWith WISECP, you can easily sell products and services in any sector and category.
High-Level Security
Security is our first priority and WISECP is protected by strong layers of security
Learn more about security
Unique Features
There are important features that distinguish WISECP from other systems in the market.
User friendly, easy to use, mobile compatible admin area and client area.
An internal website integrated with the system. (Two styles)
Unique UI and UX experiences.
Advanced affiliates feature.
Advanced reseller feature.
Advanced reporting feature. (WAnalytics)
Easy ordering feature for clients.
Ability to transfer services between clients.
150+ ready-to-use currencies with one click.
Exchange rates automatically calculated through the API.
Multi-language creation and management.
Automatic language and currency activate by visitor's location.
To be able to create a product / service group in the desired category and sector.
Internal and free advanced fraud protection system. (WFraud)
Protection system that prevents spam, bot and malicious attempts.
Superior SEO compatibility.
Popular API integrations.

and more.